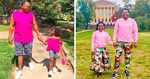 Michael Gardner is a 36-year-old father who's discovered his biggest passion—sewing clothes—by looking for a way to make his daughter feel happier and more confident. Michael started teaching himself to sew back in 2014 as a way to bond with his daughter Ava who, at the time, was only 3 years old. He began making custom designs for Ava by refashioning thrifted women's clothing which later lead him to starting an Instagram account and a blog called Daddy Dressed Me.
"My mission is to help Ava build her self-esteem and establish confidence in herself and her abilities. I sew the clothes and Ava models," Michael explains on his blog. "I learned through trial and error, watched tutorials on YouTube and Pinterest and just started creating." The man has already created over 200 unique-looking outfits for his daughter, which he's been regularly posting on Instagram. The duo's Instagram profile currently has almost 21k followers.
Without further ado, Bored Panda invites you to scroll down and look through the list featuring some of our favorite outfits that Michael has designed for his lovely daughter Ava. As always, make sure to vote for your favorite ones!
More info: Instagram | Facebook | daddydressedmebymg.com
#1
Image credits: Michael Gardner
#2
Image credits: Michael Gardner
#3
Image credits: Michael Gardner
"I have been creative since I was a kid and have utilized my talents to express myself in so many outlets. I've tried my hand at writing, poetry, room renovations, upcycling furniture, painting, party planning, photography and cooking. When I discovered sewing, the experience gave me a feeling I had not accomplished with any other craft," Michael writes on his blog.
#4
Image credits: Michael Gardner
#5
Image credits: Michael Gardner
#6
Image credits: Michael Gardner
"I appreciate the ability to create a garment that began as an idea in my thoughts and seeing the piece walk the streets either on myself or Ava is an amazing feeling. Being a Father is my most important responsibility and what I am most proud of in life. It is a blessing to be able to combine my journey of fatherhood with my love of creativity while creating memories with my child," the dad explains on his blog.
#7
Image credits: Michael Gardner
#8
Image credits: Michael Gardner
#9
Image credits: Michael Gardner
Turns out, Michael's desire to be an active parent in Ava's life was inspired by his own childhood experiences. "I wanted to make sure she felt confident, that she loved herself, and that she could believe in her abilities, which are all the things I struggled with as a kid," Gardner told The Philadelphia Inquirer.
"I would be physically standing in front of him [my dad] saying 'hi' and he'd ignore me. He would cross the street to go up the block and avoid me," Michael explained to The Philadelphia Inquirer.
#10
Image credits: Michael Gardner
#11
Image credits: Michael Gardner
#12
Image credits: Michael Gardner
#13
Image credits: Michael Gardner
#14
Image credits: Michael Gardner
#15
Image credits: Michael Gardner
#16
Image credits: Michael Gardner
#17
Image credits: Michael Gardner
#18
Image credits: Michael Gardner
#19
Image credits: Michael Gardner
#20
Image credits: Michael Gardner
#21
Image credits: Michael Gardner
#22
Image credits: Michael Gardner
#23
Image credits: Michael Gardner
#24
Image credits: Michael Gardner
#25
Image credits: Michael Gardner
#26
Image credits: Michael Gardner
#27
Image credits: Michael Gardner
#28
Image credits: Michael Gardner
#29
Image credits: Michael Gardner
#30
Image credits: Michael Gardner
Read more: boredpanda.com